Just a quick note from the midst of Yoga Therapy Training with the Amrit Yoga Institute. As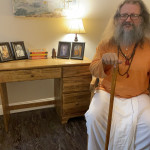 some of you know, while attempting the very dangerous "Tie My Shoes" pose, the muscles in my back decided to go on vacation. They decided this the morning the Meditation in Motion mini-retreat began. Two days after the retreat ended, I flew here to Florida for the Yoga Therapy Training.
Since July 28th, I've used a cane to assist walking, standing, and such things. It provides just enough upward traction to relieve the pressure on those vacationing muscles. The picture above was taken the day I arrived. Everything was a bit intense that day.
Yoga Therapy
I want to make a quick report that yoga therapy works. When these back muscles do their thing, I often experience long stretches of time when I can't even get out of a bed without very painful effort and/or major assistance. I now approach these times the Meditation in Motion way and now I can also approach them the yoga therapy way.
Receiving a yoga therapy session, whether partner assisted or solo at the wall with multiple props, has been so relieving but I have found GIVING a partner assisted session even more beneficial than receiving a session.
Bones
Yoga therapy has also been helpful in allowing me to better understand what may be contributing to this recurring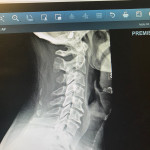 experience.
I already knew there are bones spurs on the font of the cervical spine (see the x-ray, spurs on the right side of the image). Those are pinching the nerves into the left arm. I also found that releasing the muscles down in the hip that were so tight caused a related sensation in the shoulder and neck.
I also had one partner who asked about my scoliosis. I replied that I don't have scoliosis but my mother and at least one of my kids do. "Well, your spine says otherwise," was the response. So much new information! We'll investigate more with the physician when I return to Utah.
Grace
So, why is this post titled, "Anugraha—Grace"? Anugraha means Grace and that is what I have experienced.
I came to this training intensely injured. I have a very high pain tolerance and I have been riding that knife edge since the day it happened. Still, I was completely at peace and ease with the injury and with being the gimpy, old man at the retreat and during the training.
The injury hasn't magically vanished, although there are times that it feels like it magically vanishes for a bit. Remember what I wrote about giving sessions? I was (still am) completely at ease with it and with everything around it but it has become grace.
What does that mean? My brother by name, Ram Dass, expressed it ALL very well in his Netflix documentary Going Home. I highly recommend investing the 30 or so minutes required to watch it all. Here are the excerpts that give a flavor of Anugraha—Grace.
I don't wish you the cane, but I wish you the grace from the cane.
Enjoy the Adventure.
Again and Again,
Now and Always
Jai Bhagwan
Ramdas