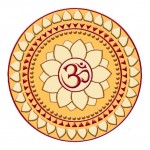 As I mentioned in class tonight, you can practice live with the community at the Amrit Yoga Institute tomorrow (Friday, 14 February) at 4AM MST. Gurudev will then give darshan at about 5:10AM our time. If those hours are too early, you may be able to participate by recording.
Here's the link to the live sadhana and darshan. Here's the link to the recorded events.
So, here's the little bit of a tease. Sunday marks 12 years that I've been on this Yoga journey of mine. I hope you'll join me here Sunday to help celebrate.
Until Sunday, Jai Bhagwan!