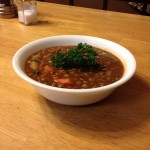 Today I want to share with you a new recipe. I was going to embellish this post with some thoughts on taking Sadhana off your mat and into the kitchen but I'll save that for another day. Today, I just want to share the pure joy of cooking and eating good food.
I enjoy eating soups and especially thick soups that require a bit of chewing. This soup fits the bill perfectly. I first made this soup last Friday and was very pleased with the flavor. I also have to admit that I was excited to discover that it also excels on the Jona meter. Jona, my oldest son, is very selective about which foods he likes. It is not uncommon to hear him say, "It's good but I don't want seconds." I was pleasantly surprised to see him eat the first serving—a small serving—leave the table and quickly return with a large serving of soup. I hope you will enjoy it as much as Jona did.
The recipe is fairly simple but it does require about an hour of cooking time; however, most of that cooking time is unattended simmering.
Ingredients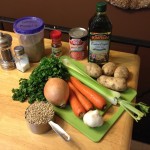 Serves: 8
2 tablespoons extra-virgin olive oil
1 large onion, finely chopped
4 cloves garlic, minced
2 celery stalks, finely diced
2 to 3 medium carrots, peeled and sliced
6 cups vegetable broth
1 large or 2 medium potatoes (or 1 medium sweet potato)
1 1/4 cups dried green or brown lentils, rinsed
1 to 2 tablespoon Garam Masala
2 teaspoons sweet paprika
15- to 16-ounce can crushed tomatoes
1/4 cup (1 bunch) minced fresh parsley
Salt and freshly ground pepper to taste
Heat the oil in a soup pot. Add the onion and sauté over medium heat for 5 minutes, or until translucent. Add the garlic, celery, and carrots and sauté for 3 to 4 minutes longer.
Add the water, potatoes, lentils, and spices. Bring to a slow boil, then cover and simmer until the lentils and vegetables are nearly done, about 30 minutes.
Add the tomatoes and parsley, and simmer for 15 minutes longer over very low heat, or until some of the lentils are completely mushy, while others still hold their shape.
Season with salt and pepper. If time allows, this soup benefits from allowing it to stand for an hour or so before serving to develop flavor. Heat through as needed before serving.
The original recipe called for bay leaves and Mrs. Dash or similar spice blend. The only spice blend I had at hand was Garam Masala which added a nice Indian flavor to the soup. Experiment, there's that word again!, with different spice blends and let me know what you like and don't like in the comments below.
Jai Bhagwan