I've

been posting and sharing on Facebook the 10 most influential books in my life. Of course, I started with a picture of 5 books and counted them as one book. I never have liked keeping the rules exactly as written. My posts about those books starts here.
I have intentionally made this page a little difficult to find. The words I write here are sacred to me and I don't want them to be too easy to find once I make them public. I'll let you, as you read, figure out why.
This page gives insight into the most influential books and shift in my entire existence. Those books are the Old Testament, the New Testament, The Book of Mormon, The Doctrine and Covenants and The Pearl of Great Price. My father started me on this journey of reading when I was a little boy of 9. Over the years of studying him as he studied books, I learned one great thing: Stories are shared and those shared stories may point at some hidden truth. Beowulf and King Arthur both had swords associated with ladies in lakes; sure, one lady was a horrible monster but the similarity pointed to some shared history. The same for Norse and Greek mythology and the Three Norns and Three Fates. Why three women? To this day, I still apply that same sense of mystery and investigation to everything I read or learn.
Before I write another word, I need to ask that you not believe anything I write. Instead, look into it for yourself. If you see something for yourself, then go with that rather than just believing me.
Belief means not wanting to know what is true.
Friedrich Nietzsche
On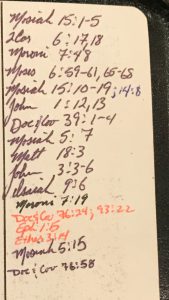 the right is a list of references. Those references represent years. The first five represent four years of study. The others cover nearly 30 years of further study. I have a gift for language. When I was 7, my reading comprehension couldn't be measured because the test wasn't designed for someone like me. I was noted as reading at a "high school level." When I started reading The Book of Mormon at age 15, I applied all of that reading ability to what I read. This book held the secret of life and, more importantly, peace and I would find it if I only studied diligently; so, I did.
I soon found an irreconcilable problem with what I was reading. I had always been taught that God, the Father, and Jesus Christ were two individuals. They both appeared to Joseph Smith but here was this prophet, Abinadi, saying, "They are one God, yea, the very Eternal Father of heaven and of earth." I knew this had to be false and stopped reading. I waited for the teacher, I was in seminary at the time, to discuss those verses with the class. He did some fancy hand-waving and said it really meant that the Father and the Son were united in purpose. That is not what those words mean, I knew it and the man teaching me obviously didn't. I decided the book was false and stopped reading.
1 And now Abinadi said unto them: I would that ye should understand that God himself shall come down among the children of men, and shall redeem his people.
2 And because he dwelleth in flesh he shall be called the Son of God, and having subjected the flesh to the will of the Father, being the Father and the Son—
3 The Father, because he was conceived by the power of God; and the Son, because of the flesh; thus becoming the Father and Son—
4 And they are one God, yea, the very Eternal Father of heaven and of earth.
5 And thus the flesh becoming subject to the Spirit, or the Son to the Father, being one God, suffereth temptation, and yieldeth not to the temptation, but suffereth himself to be mocked, and scourged, and cast out, and disowned by his people.
Mosiah 15:1-5
I soon realized that because I knew Joseph Smith to be a prophet, the book had to be true but I had to do something with Abinadi. He was, in my mind, a false prophet and I ignored him.
The next two references appeared together, two years later. I was studying the New Testament in seminary again and came upon 2 Corinthians 6:17, 18 and, again, I found scripture contradicted doctrine.
I am a child of God. I had been taught that since I was, literally, a tiny, little child. I knew it to be true. I knew God lived. I was the child who, at age 5, said to my mother, "You're mom but your name is Connie and I know dad's name is Scott. I know Jesus' name mom but I don't know Heavenly Father's name, do you? Will you tell it to me?" She told me I would have to find out for myself. For those of you who will understand, I was exhilarated and also disappointed at the veil but back to 2 Corinthians!
Paul wrote:
17 Wherefore come out from among them, and be ye separate, saith the Lord, and touch not the unclean thing; and I will receive you,
18 And will be a Father unto you, and ye shall be my sons and daughters, saith the Lord Almighty.
2 Corinthians 6:17, 18
How could I become something I already was? I cannot become a child of God, I am one! Paul's words were obviously mistranslated; so, I added those verses, in part, to the Abinadi bucket and ignored the troublesome parts. A few days later, however, I reread Moroni chapter 7. Moroni, the one who abridged the records and created The Book of Mormon, quoted his father, Mormon, as saying "ye may become the sons [and daughters] of God." Paul was not misquoted and I did not know what any of this meant. I still didn't trust Abinadi, he was a wild-haired and crazy old man, but Mormon, Moroni and Paul all agreed that I could become a son of God but I also knew I was a child of God! How could this all be true?
48 Wherefore, my beloved brethren, pray unto the Father with all the energy of heart, that ye may be filled with this love, which he hath bestowed upon all who are true followers of his Son, Jesus Christ; that ye may become the sons of God; that when he shall appear we shall be like him, for we shall see him as he is; that we may have this hope; that we may be purified even as he is pure. Amen.
Moroni 7:48
For two more years, I would read and watch and pray to understand this mystery I had discovered but nothing, heaven was silent and I received no answer to my prayer.
It was April of 1990. The Berlin Wall had fallen just 6 months earlier and I had been called to serve a mission in East Germany. I was up late that April night, studying. My companion and I had decided we would spend the next day in the temple from 5am to 4pm when we would meet other missionaries for a final session together before we all left for the DDR.
That night, I was reading in Moses chapter 6 and my life forever changed.
59 That by reason of transgression cometh the fall, which fall bringeth death, and inasmuch as ye were born into the world by water, and blood, and the spirit, which I have made, and so became of dust a living soul, even so ye must be born again into the kingdom of heaven, of water, and of the Spirit, and be cleansed by blood, even the blood of mine Only Begotten; that ye might be sanctified from all sin, and enjoy the words of eternal life in this world, and eternal life in the world to come, even immortal glory;
60 For by the water ye keep the commandment; by the Spirit ye are justified, and by the blood ye are sanctified;
61 Therefore it is given to abide in you; the record of heaven; the Comforter; the peaceable things of immortal glory; the truth of all things; that which quickeneth all things, which maketh alive all things; that which knoweth all things, and hath all power according to wisdom, mercy, truth, justice, and judgment.
Moses 6:59-61
I realized that I was reading about baptism and saw that it was not merely a symbolic birth but also, after a fashion, a literal birth. In physical birth, four components are present: Water (amniotic fluid), flesh (our body), blood (mother's), spirit (ours). I also saw that those same four components were present at baptism: Water (font, river, lake, etc.), flesh (our body and spirit), blood (Christ's), spirit (Holy Spirit). I realized I was missing a piece though, physical birth joins us to a family. Whose family did I join at baptism?
As that question entered my mind, I left it and found myself in and as a vast, spaciousness. I watched Abinadi as he stood in chains and declared, "They are one God, yea, the very Eternal Father of heaven and of earth." Even as I write this, I feel again the same overwhelm that fills my whole being. I saw Paul, Mormon and Moroni declare that we may become the children of God. I saw the baptism of Adam and my own question, "Whose family did I join?" and I heard in answer these words, "All truth may be circumscribed into One Great Whole." and I knew. The family I had joined at baptism was Christ's own. I was his son. He was the only person Abinadi was talking about, he was never talking about God the Father but always about God the Son and his role as both Father and as Son. Paul and Mormon and Moroni weren't saying I could become a child of God the Father but that I could become a child of Christ.
And I wept.
When I finally saw the room around me again, I wrote to my branch president and told him all that had happened. I felt exhilarated and terrified. I had never heard such a thing and I couldn't imagine that something so important wouldn't have been taught to me. I feared that what I had experienced would be seen as heresy but I wrote and kept nothing back. The next day, I received my letter back with a note on it, "Isn't it wonderful when we learn, through our own study, something new about our relationship with the Savior?"
Returning to that previous night, after writing the letter, I returned to Mosiah and reread the words of Abinadi in chapter 15. I not only understood his words but I also understood the immense sorrow they contained. Jesus was never a father during his life. He, Jesus, was cut off out of the land of the living. Who would declare his generation (who claim him as their father?). I say unto you, that all those who have hearkened unto their words, and believed that the Lord would redeem his people, and have looked forward to that day for a remission of their sins, I say unto you, that these are his seed (See Mosiah 15:10-19).
The next night, after a day in the temple and reading the note on my letter, I returned to Moses 6 and read:
65 And thus he was baptized, and the Spirit of God descended upon him, and thus he was born of the Spirit, and became quickened in the inner man.
66 And he heard a voice out of heaven, saying: Thou art baptized with fire, and with the Holy Ghost. This is the record of the Father, and the Son, from henceforth and forever;
67 And thou art after the order of him who was without beginning of days or end of years, from all eternity to all eternity.
68 Behold, thou art one in me, a son of God; and thus may all become my sons. Amen.
Moses 6:65-68
I will leave you to study the remaining references with this one special note, the second reference in red is Eph 1:5.
This is only the first half of the radical shift. Read the next page to carry on.