Shanna, my wife, shared a very poignant BuzzFeed video on Facebook yesterday morning. You can (and should) watch the video below. So many of Kevin's words remind me of my own past.
"I thought I was a burden to everyone who loved me, because that's what my brain told me, because that's how powerful your brain is."

"It was that moment I just said, 'Nobody cares.' The reality was that everybody cared. I just couldn't see it."

"So, like, it's okay to not be okay. It's not okay to not ask for someone to back you up."

"Recovery happens, I'm living proof."
I did not jump from a bridge, I hanged myself. I am alive today because the knotted rope pulled loose when I was 10. Years later, the train didn't stop until I reached my destination. Then, the drug store was closed on New Years' Day in East Germany when I was 19 among many other dark nights.
In 2003, after 24 years of depression, I finally allowed myself to accept and even embrace depression thanks to my yoga practice.
Wed, 12 Nov 2003

Darkness Approaches

Darkness approaches.
It is coming.
It is here.

I was dreaming, I could feel it; yet I couldn't be dreaming for I was awake. Silence bore down upon me and I slept not knowing whether or not I dreamt.

In the distance I hear it floating on the air. In the twilight I feel it shriek, a fierce hunter seeking its prey. I watch myself float over smoky waters and see, it wings its way toward me. The sight of its fetid form sears my eyes as it washes over me. I am consumed . . . .

I watch it settle upon my back; feel it seep into me, thick, foul and hot, seeping into every vein. It is so cold, I am frozen, unable to even struggle. It clutches my heart with burning talons, it presses the breath from my lungs. I am undone, helpless, praying for destruction and reviled by my own mind.

There is a darkness within, I embrace it and name it friend. Its heartless laughter echoes throughout and black flames lick in torment. There is no turning, no hiding from this demon. Despair is its name and Death its only succor.
Instead of fighting against depression, I surrendered completely to it. Depression now dictated my life and I knew that my only escape would be my eventual death. I no longer tried to end my life but I prayed for death almost every night.
Over the next six years, I would spend days and even weeks in bed because I accepted depression fully into my life. In the spring of 2009, I began practicing Amrit Yoga. I was preparing for teacher training with Yogi Amrit Desai—the man who would become my guru, my Gurudev. Five years later (November 2014), I realized that I had not suffered a depressive episode or thought of suicide since beginning my Amrit Yoga Practice. A growing light had pierced the darkness of my long night. That light continues to grow, shining brighter and brighter. For more than 6 years now, I have not suffered a single bout of depression nor have I even considered suicide.

There have been many great moments, supernovas of light, that have burst upon me since the spring of 2009. I have discovered that I am not a failure, that I am loveable and that I AM Love. In all this time, however, I've been unable to express my experience in any poetic form. My poetic muse always arrived alongside the depression. I had considered it a deep loss but one well worth the freedom I have enjoyed. That has changed. The last week has unlocked my voice.
Tues, 15 Dec 2015

From Darkness to Light


Gu is the symbol of darkest night

Ru the symbol of radiant light.

The walls tumble, the clouds drift away.
Where once the Darkness dwelt, a flame was kindled.
At first it flickered but then it grew.

Now the ruined walls lay forgotten, within their tumbled ruins burns a flame bright as day.
The Darkness, once tormentor and demon, slips away. Its power has dwindled.
With eyes burning bright, filled wholly with light, I see the world . . . shining and new.

Darkness, once enemy and terrible to see, surrendered its strength, gives it to me.
Walls, once mighty and vast that none could broach, now cast down in ruin raise a glorious shrine, bidding all to approach.

Within shines love's flame with radiant light.
Lending it's warmth to all, both day and night.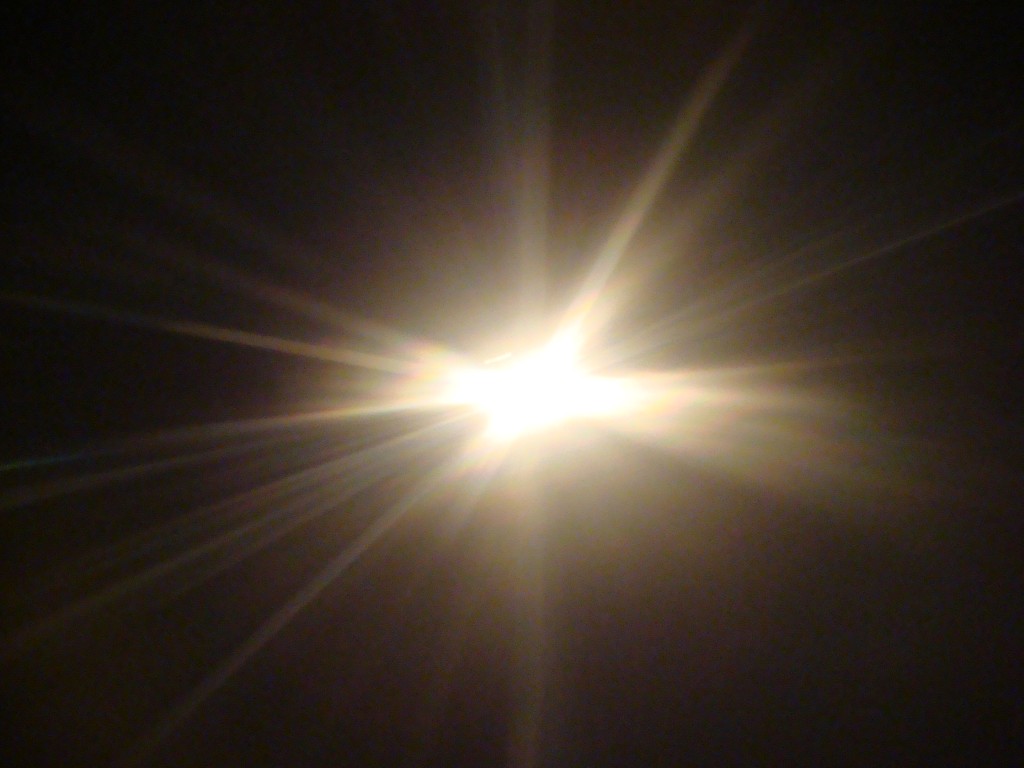 Jai Bhagwan—VICTORY to the Light!
Ramdas
Photos:
Light Breaks Through. Model: Utah Lake Photographer: Ramdas source: Ramdas
used with permission
Light Shining. Model: none Artist: Zouavman Le Zouave source:
WikiMedia Commons
used under Creative Commons liscense